It was one of those times when the stars seemed to align. It isn't always convenient (or a good idea) to have your clients work together. Yet, there are times that it really can't be avoided because it is just too good of an idea.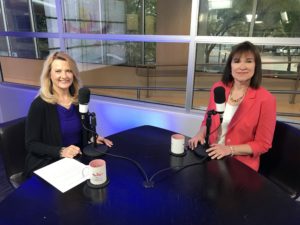 Recently my long-time client, Claire Billingsley, had a schedule that didn't allow her to find, recruit and book guests. I made a list and ran it by her and began sifting through my network to find and book guests for Claire. What it presented was an opportunity for other members of my client "roster" to step up and be included in an episode or two.
It proved to be a mutually beneficial opportunity: Claire got her guest slot filled with an interesting guest who was prepared (and of whom I could do a lot of prep for) and the guests got the benefit of a marketing opportunity with legs and the bonus of their social media guy (me) being in charge of promotion on both sides.New Paradigm Advisors holds monthly workshops for partner organizations as a value-added opportunity for the partners' clients. Topics range from team building to exit planning to the entrepreneurial operating system.
The client who stepped up was Dave Sykes of New Paradigm Advisors along with his associate, Nancy Canada. Both Nancy and Dave have specialties within their consulting group–Dave is certified by the Exit Planning Institute and Nancy is a John Maxwell Certified coach. This ended up being two episodes that were programmed to lead up to workshops highlighting the respective subject matter areas.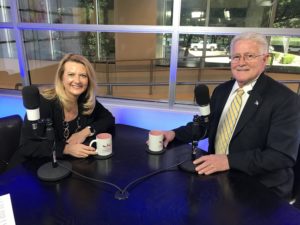 How did this benefit both parties? For Claire it meant more, new visitors seeing her program through posts on her guest's media. For New Paradigm, the two episodes garnered dozens of new likes and views of their social media sites as well as Claire-centric visitors now being introduced to them. As for numbers: near 3,700 views for the two shows over both pages which, typically, on non-video days, attract less than 50 visitors per post. It shows the power of video and intentional promotion.
The good news, too, with this is that both parties can benefit by using each otehr's skills in their respective consulting businesses. Claire engages clients who can benefit from Nancy's skills testing and leadership skills assessments; New Paradigm Advsiors can benefit in their Exit Planning and "Next Act" discussion because of Claire's experience in assessing franchisees and the value of their enterprises pre- and post-sale.
At any rate, it taught me to be more astute in being open to having my clients cross paths for their mutual benefit. I am also fortunate that they are open to such collaboration.
Relentless