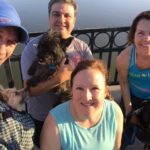 It started as a way to add mileage to our fall training program. Some of us were working toward 5Ks or 10Ks or even a half- or full marathon.
Whatever the reason, it began as another day of running with friends.
It was a gathering of runners followed by coffee and has become more coffee than running. The journey from being the Sunday Striders to becoming the Sunday Sippers included coping with weather and injuries, dog walking and a love for conversation among a close-knit group of friends.
This is one of the most clear examples of grass-roots community I've ever experienced. And it started with the real grass-roots aficionados, Luke's Locker.
Runners are a diverse group to begin with: professionals of all stripes, recovering personalities of every possible description, those looking to lose weight, others that can only walk while others are training for their next marathon. the common thread is humanity and a desire to be healthy, not only of body but of mind and spirit. Among this group whose company I have enjoyed nearly every Sunday morning for these past 4 years are a cardiac nurse, a real estate executive, an IT professional, and an attorney-turned-author among a rotating cast of characters. Our politics are wide-ranging and our meetings and relationships stretch beyond this coffee meeting.
No matter the topic or direction of a conversation, we all seem to allow each other's opinions and welcome the diversity of thought.
The lesson in all this is don't turn down an invitation. And give your relationships time to grow and mature. People are a deep and interesting resource to have around you and tapping into that resource takes time. It is really about building familiarity and trust.
Trust your instincts and be diverse and open in your thinking. And give yourself time to grow.
Relentless