You saw it coming, so thanks for counting down with me.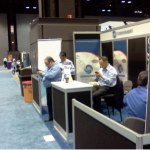 Yes, now you get to engage your staff face-to-face and talk about the things you've been rolling out to them over the past few weeks.  This is the formula for the final (well, almost) piece in this puzzle of engagement. Here's the formula:
Call the meeting for an hour maybe 90 minutes, the day before the opening of the show.  So if a show opens on  a Monday morning (or a Sunday night) hold the meeting on that Sunday morning. Offer breakfast and make it part of a larger sales meeting if necessary.
Base the presentation on the slides (PowerPoint, et al) from the previous call.  Continuity, continuity…
Expand the meeting to include ample discussion of the key marketing messages, the products to be shown or demonstrated and which key customers or prospects are expected to visit the booth.
Offer advice on how to engage and qualify prospects, take leads and move on.
Start and finish on time.
And, actually, there is a 3A part to this program: the in-booth standup meeting.  That will be covered in our next installment.
Enter to listen, depart to sell (gather leads)!
Relentless
*photos courtesy GoPromotional.com and Gary Donatell, CenterPoint Exhibits