You've laid the groundwork for your staff at the show with the initial email, now is your chance to engage them live–at least voice to voice.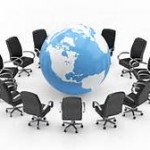 Bring on the phone call or WebEx**!
This event is scheduled about two weeks out from the show.
Now is your chance to spell it out in real terms.  You've hammered out the content and themes and your expectations, now you get to communicate them.  And it will be a conversation.  Your staff's input and feedback will be tremendously valuable.
A few guidelines for the call:
The outline (agenda) for the call should follow the generalized outline of the preceding email.
Ideally it will be a WebEx or similar format that allows for slides (PowerPoint or similar) to be shared.
Keep it to an hour maximum. Use a timed script to stay on schedule
Everybody has a role: show owner (key manager), facilitator, trade show manager, marketing manager, executives, sales staff.
Try to keep the number of people on the call to a minimum–just those sales people who will be at the show and in key roles.
Be sure and include generous Q&A and any critical feedback needs to be incorporated into the next event–the onsite pre-show meeting.
Look for examples on SlideShare.
Relentless
*images courtesy of drcomms.com.uk and cafepress.com
**WebEx is a service of Cisco