We were all on board for the event early on but it needed a name.  And not just any name.  It had to:
Be timeless (stand the test of time).
Reflect the content of the event.
Fit with the brand of the North Dallas Chamber.
Be able to be translated easily to social media and the rest of the Chamber calendar.
As tempting as it was to feature "meat" in the title, things like "The Great Dallas Meat Up" and "Meat and Greet" did not survive past early discussions (besides, "Meat Fight" was already taken by our friends Mike and Mike at that event that supports the MS Society).  And that was another thing: as fun and PC as it might be to use a committee or put the name to a vote (or have a contest), it was far more practical and less time consuming (and even less controversial) to have a small group counsel and come up with a name.
And so it was that Communications Director, Lizeth Winkles, and I took much of a day and brainstormed in a closed office.  We had done our research on similar events in Texas and beyond, so it was time to sit across the table from one another and spitball at least three candidates to share, with one being the recommended final choice.  Since it was already the Fall with an April date set, we knew we had to move fast.
What we came up with was "The Big D BBQ Battle." It fit well.  Borrowing the tried and true name of our city (Dallas has always been "Big D") and matching it with the food type (barbecue) and tying it to the competition (battle) that it was centered around, the name came together.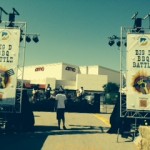 With the name in place we were able to garner support through social media with hashtags (#bigdbbqbattle chief among them) and a landing page on Facebook as well as a link to the Chamber home page.
What's in a name?  This event has now been planted in the North Dallas vocabulary and on the calendar for each April.  It is tied to Midtown and the Chamber from now on.
Relentless