This comes under the heading of "when the client calls, the answer is always some form of yes."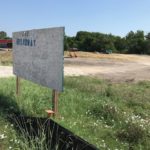 Recently an automotive client called and asked a question I hadn't expected of him: could you find out the status of a property under construction near my business?
Now, without going into too much detail, I had to say this seemed a bit off track. This was a business for whom I had written blogs, posted in social media and consulted with on building design. But this was different. He was asking for background and research related to zoning, planning and construction.
It really is a research project. One that required knowing where to look, being tenacious enough to be persistent, and being able to write a clear report of findings.
While it wasn't his usual request for marketing support, it was a request for help. And, apparently, his experience with me, he knew my work ethic and figured I had translatable skills for this request.
The resulting project was a true example of not saying know.
When you know your clients, and they know you, it gives new opportunities for both parties.
Imagine the possibilities.
Relentless