What started out as a follow up to visits for the dog walking service I was working for, this hash-tagged series of Twitter posts has become almost an obsession.
Really, wherever we go and whomever we meet, Harry and I usually snap a photo and add them to his website.  It was when I wanted to promote my friend Erica's business that the hash tag appeared.  It was a way to draw attention to animals, their condition and the company and its services.
Now, Harry and I have a history of meeting up with people and traveling together and have for a number of years.  It all started a few years back when the communications director at the North Dallas Chamber suggested that Harry get active on Twitter and we use him to promote member businesses.  So, H-dog and I set out to snap a few photos of him in front of chamber member businesses.
That's when it got interesting.
When we tweeted from in front of the Northpark Nordstrom store and the social media manager at their Seattle HQ retweeted us and added a note for us to "have a great day," I knew we were on to something.  So it was with #friendsofharry.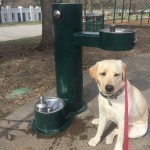 The idea came to me one day while I was walking one of my "clients," Lulu, the yellow lab.  Since I have to take photos of the dogs and text them to the owners anyway, why not add them to Harry's Twitter feed? I conjured up the hashtag, created a pithy intro ("Stay hydrated," as Lulu posed with a water fountain) and added in the handles of a few related or interested Twitter users.  Besides Out of the Kennel (Erica's company), I included the SPCA of Texas and Operation Kindness, a local rescue shelter.  It was when I added Petco that it got interesting.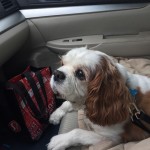 Somebody in their San Diego HQ started liking and retweeting the hashtagged tweets.  Even offering up LOLs, comments and even condolences for a recently deceased client.  It was grassroots engagement at its best.
This has only been going on for a few months, so not sure if we have real metrics yet.  But Harry has Tweeted several hundred times and has hundreds of followers now.  And it is a good story and test bed for other prospects and clients (see the photo story blog I wrote earlier this year).
Oh, and we do have permission from the clients to use their pets in promotion of the company.
As I say about Harry, it is truly amazing what a little dog can do.
Relentless