This is the first in a series of posts from the 2017 HAI-Heli-Expo 2017, held in Dallas, March 6-9.  This report was filed by my long-time colleague and collaborator, Wesley Bates.  Wes is currently the Media & Communications Manager for GKN Aerospace.  Here is Wes' report from the show.
As a kid growing up in the 1980s, one of my favorite TV shows was Airwolf. The show featured a futuristic, high-tech military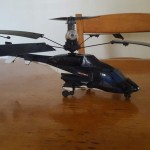 helicopter piloted by Dominic Santini (portrayed by acting legend Ernest Borgnine) and Stringfellow Hawke (Jan-Michael Vincent). The helicopter –my favorite star of the show- was derived from a Bell 222 twin-turboshaft helicopter originally created for the civilian market as a corporate or emergency medical transport helicopter. I was such a fan of the show that my favorite toy was a gas-powered vertical climb vintage Cox Thimble Drone. It was a pain to get started, but once it did, it was fun to watch it fly.
Fast forward 30 years to the first week of March, 2017, and I find myself attending my first Heli Expo at the Kay Bailey Hutchinson Convention Center in Dallas, TX. As you can probably guess, I was a kid all over again. I walked the show floor in fascination of all the exciting rotorcraft variations, services and supplies offered throughout the industry.
I co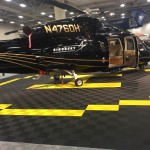 uld spend hours walking around and looking at all the helicopter models on display from major manufactures such as: Airbus, Leonardo, MD, Sikorsky and, of course, Bell. Each of the aircraft had its own unique design, features and capabilities, especially the military aircraft. For a three-day show, you could easily spend the first two just looking at the aircraft on display.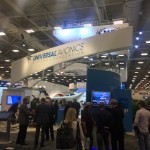 The other unique feature of the show was all of the rotorcraft parts and services companies demonstrating their solutions and promoting their services to all the manufacturers. There was a wide range of promoted solutions including: leasing services, maintenance, repair and overhaul (MRO), gear, lighting and virtual training platforms.
My favorite booth to visit was that of Rhino Air. This is a non-profit group who operate helicopters outfitted with thermal and night vision technologies in Africa's wildlife preserves to prevent the poaching and slaughter of the endangered rhinos and elephants. These are really great people operating for a good cause. I highly recommend you check them out and think of them when budgeting your annual charity contributions.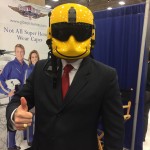 Speaking of budgeting, I'll need to make sure I budget for dinner and a show at next year's Heli Expo because it will be held in Las Vegas. Perhaps I will finally be able to take that long awaited helicopter ride to the Grand Canyon; we shall see. Until then, I hope to see you at the next show.