My lessons of visiting 20 companies in 40 days.
I remember it very clearly. My CEO asked me to visit 100 companies before the end of the year. Given that it was the end of July, could I clarify the goal with him, I asked.
It was July 31. There were exactly 100 business days left in the chamber's year–that's 22 weeks.  At two per week, which 44 on the list did he want me to see?  I figured that on average it would probably work out to two visits a week once I got up and rolling.
By the beginning of October I'd walked the shop floors of over 20 companies. And written profiles But most importantly I'd connected with the plant managers and general managers.
Funny how that works.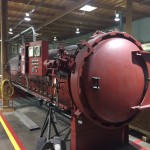 I'd gotten tours, asked key questions, even shared meals with people.  I posted many of the visits to Facebook, Twitter and Instagram.  People were talking about manufacturing in Garland, Texas, who didn't know there was manufacturing in Garland, Texas.  From Milano Hats to Shape Corporation to Packaging Corporation of America to Craters and Freighters, I'd seen the inside of their plants, discussed topics ranging from wage ranges to tardiness to expansion.  It was like drinking from a fire hose.
But there was documentation, too.  Profiles of updated contacts, bullet-pointed lists of topics of interest and a summary of the business as it was being done that day.
I did my homework. I called on people. And I invited myself over. Some great conversations with some great people.  And all I had to do was ask.
Hmmmm.
So the lesson is: manage your time and be realistic about what you can do and what you are eventually wanting to have as results.  But, as in networking, keep good records, follow up and be memorable.
Relentless