OK, that's a mouth full of a title, but it really does describe this concept.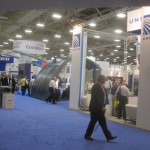 Recently I was hired to help train a company's trade show booth staff for a specific show.  Instead of just showing up on the day of the show and teaching them the basic don't-smoke-or-eat-in-the-booth rigamarole, I designed a process to educate them leading up to the show, at the show site and in the booth on show days.
We started with the concepts that needed to be communicated to the staff:
Who was going to be involved with the project.
Goals for the show.
Key marketing messages
Significant customers and partners who were going to attend the show
Products to be displayed and demonstrated
Logistical details of the show (floor plan, hall layout, staff hours)
How to engage prospects and clients
Generous Q&A
We then needed a platform from which to launch these ideas and interact with the staff.  A full 60 days out from the show the core team (show "owner," trade show manager, marketing management, facilitator–me) met to lay the ground work for the format in which these ideas and materials would be presented.
The formula for presentation uses these communication vehicles:
A generalized email to the team (staffers, support, the core team) 3 weeks out
A phone call or WebEx-type presentation 2 weeks out
An on-site meeting the day before or the day of show opening
Daily 5-minute stand-up meetings in the booth at the start of show hours and at closing.
Each item builds on the last and can be edited or modified to include new information learned from the previous edition.
In future posts we will talk about each element and how it supports the education of the booth staff.
Relentless