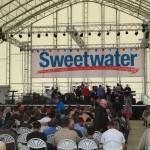 Over the years I've attended and witnessed all manner of shows in many venues selling a variety of products and services to significantly different audiences.
I can't remember ever being at an event where the founder greeted every attendee at the door personally.
So I guess I had to wait until I saw Chuck Surack in action at Sweetwater Sound at his annual GearFest show.  Running for the past dozen or so years, this marketplace of musical instruments and high-end audio gear is a staple of Northern Indiana and anyone who has ever mail-ordered a musical instrument.
Like 14,000 someones. In two days.  Each year.
Seriously, this online retailer, which began as a recording studio in the back of a Volkswagen Microbus in 1979, is an icon in the industry.  Taking the retailing concept a step further, Surack, the founder, mixed in world-class recording and performance studios and superlative customer service and interaction.  What has emerged is a singular-named organization that is recognized around the world not only as a retailer, but as an advocate and purveyor of quality sound.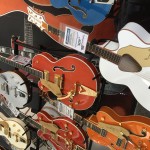 My good fortune is with having connected with RBDG, the acoustic consultancy that designed the high-end recording, mastering and performance spaces inside Sweetwater.  It was as Russ Berger's guest I got to attend and see Sweetwater (and Fort Wayne) firsthand.  Talk about a Forrest Gump experience. Russ not only knew the hierarchy of Sweetwater, he knows many of the customers and collaborators.
Needless to say, this was, for RBDG, a "Captain Jerry" experience as an exhibitor.  Their key customer among all of the activity, was Chuck.  For me, it was a way to see a hybrid show that combined retail, exhibitry and showmanship all in one space.  For the attendees it was being exposed to great gear, talent and customer service.  From a pure trade show perspective it was a great example of layout and engagement.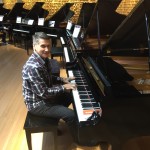 That last part was great to see on display: few businesses and even fewer retailers have the depth and expertise in customer service that Sweetwater exhibits toward its customers.  From the time they enter the place, through their purchasing experience to checking out and beyond, they are all treated as A-listers.  No one is too small or too big to be a client of Chuck and his team.
A great experience and a great example.
Relentless